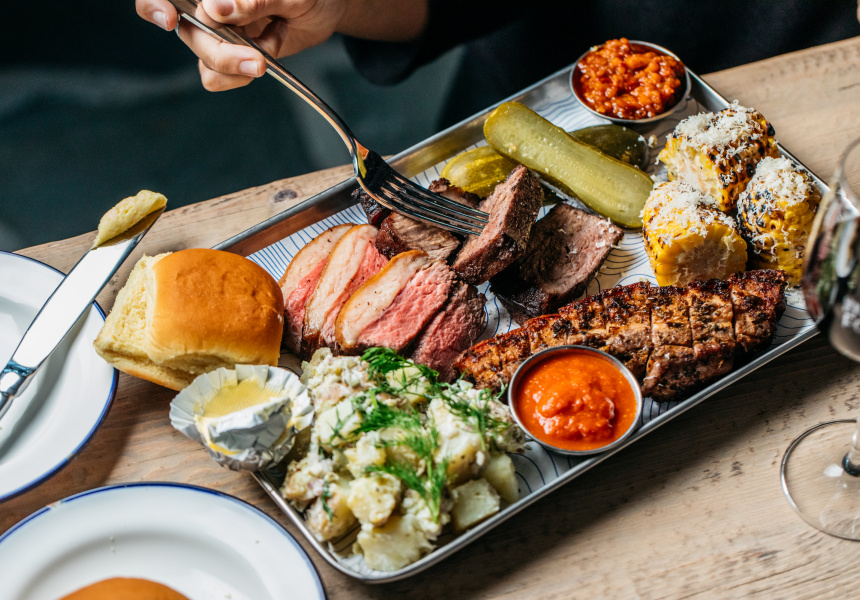 Almost a decade ago, the Drink'n'Dine hotel group acquired the Norfolk on Cleveland Street in Redfern and transformed it from an old beer bar into a dive bar-style American pub. A year later, its second level became the House of Crabs Seafood Shack. Now, in the venue's 100th year, it has undergone another overhaul – reopening (if restrictions allow) on July 1 as Norfolk House and Hotel, part coworking space, part hotel, part dining destination. .
Its owner is the new hotel and hotel group The People, which is rejuvenating suburban Sydney hotels including the Exchange Hotel, the Kurrajong Hotel and the Strand Hotel. When Norfolk reopens, it will span two levels, with a drink menu led by award-winning bartender Tim Philips-Johansson (Dead Ringer) and food every day of the week, led by group chef Sam Bull. (Prince of York).
Co-founders Andrew Taylor and Paul Schulte say they wanted to make sure the entire pub was used as much as possible. "We kept seeing all those old pubs that had underused spaces above the ground floor," says Taylor. "We stripped it of its basic historical aspect. There will be a range of spaces, and there will be a recreational element, such as a stage for music or other events.
Schulte says they've peeled over 20 tons of trash (paint and other upgrades) accumulated over the past century. In the yard, the old tree was pulled up (it was a risk for the fence). Now the outdoor space is bathed in light and features a new spit barbecue – soon to be grilled eggplant, Wagyu rump, prawns and LP's smoked pork sausage.
Upstairs, a networking and coworking space, open from 10 a.m. to 5 p.m. on weekdays, with free wi-fi and ergonomic chairs. Overlooking the courtyard is a large wooden dining room called the Garden Room, available for group bookings. Downstairs there is a TV room and the original fireplace. The drinks menu will include natural wines, beers and cocktails such as Banana Mules, Jalapeno Mojitos and Toucan Sam Negronis.
"We want to respect history, but now we call it 'home and hotel'," Taylor says. "Level one will be seen as the 'house' – the heart of the building where people should always feel welcome.
Work is still ongoing on the six en-suite bedrooms, which will be available for a few nights or as part of ongoing short-stay bookings. Inspired by the success of international boutique hotels, such as the New York Public and the Hoxton in London, The People will create their own technology (like an app) to encourage and reward repeat visits (and you will be able to order food and drinks or check with her, for example).
Unlike traditional pubs, it opens for coffee and pastries from 10am – with Melbourne's St Ali cafe. In the not-so-distant future, there will be a wine bar and a grocery store next door.
"He's 100 years old this year, but we really want to prepare him for the next 100," adds Schulte.
The Norfolk House and Hotel will open on Thursday, July 1, pending Sydney's Covid restrictions.
The Norfolk House and Hotel

305 Cleveland Street, Redfern
Hours:

Sun to Wed 10 am-11pm

Thu to Sat 10 am-2am

Sun 11 am-10pm