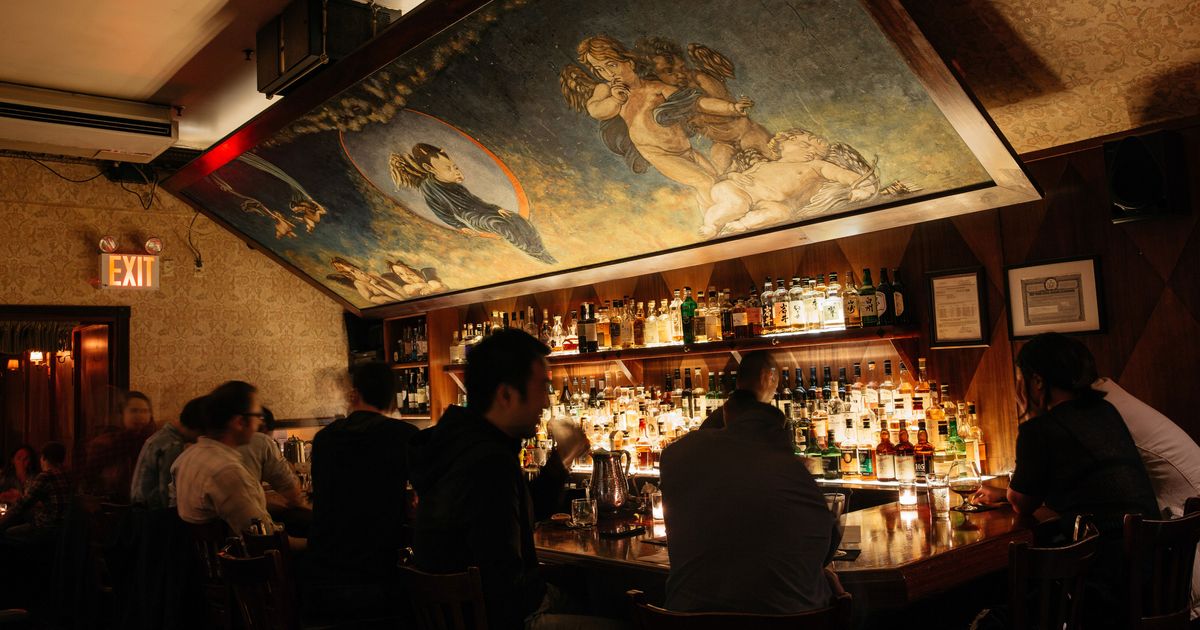 Inside the angel share.
Photo: Scott Heins
Angel's Share is finished: the popular Japanese-style cocktail bar on the second floor near Astor Place has closed its original location. In March, all signs pointed to the business being in trouble over a rent dispute, though there was still a silver lining for fans — and bar workers. However, the eventual closure was confirmed by owner Cooper Union, who sent a statement after our initial report was published: "Unfortunately, the tenant has notified us of their decision to vacate the property. They haven't been asked to move, despite not having paid rent since 2020." The bar's last night of operation was March 31.
For anyone who appreciates a well-made cocktail, it would be impossible to overstate the importance of Angel's Share. Opened in 1993 — when oversized lychee martinis were flowing in bars across the city — the bar's studious, thoughtful approach to crafting drinks was an anomaly. In the years that followed, of course, it became the default mode for most, if not all, cocktail bars, like false-Speakeasy executives, well-dressed bartenders and deeply solemn versions of classic drinks have become the norm.
The bad news first emerged when New York Times journalist Alex Vadukul tweeted that he had learned Yokocho Village, an izakaya through which customers enter Angel's Share, was facing a "massive increase in rents". Both operations, he learned, would close with the bakery Pan Ya and a Japanese grocery chain location Sunrise Mart at 4 rue Stuyvesant.
The bar owners didn't respond after I first made contact, but the statement from Cooper Union read, "We have repeatedly sought to reach an agreement in good faith."
After hearing the news in March, I stopped in Yokocho, just after opening at 5 p.m., and heard a waiter say, "It's so sad, it's so sad. When I asked the same waiter about the closure, they said at the time that management was still "finding out".
Outside Yokocho.
Photo: Scott Heins
When the bar opened at six, a line had formed outside the entrance to Angel's Share, which is inside the restaurant. The small bar was more or less full at 6:30. I asked a bartender what he heard about closing. "There is an 85% chance that we will close," he said. "It doesn't matter, because we are going to move."
In the end, the odds were more like 100%. Much has changed in the nearly 30 years since Angel's Share opened, including the value of East Village's prime real estate, but according to the Cooper Union memo, "the formula for calculating the rent for these properties has been in place for about 30 years and has never been changed."
Angel's Share, if it continues in some form, will also have to change. "It won't be the same," sighed the bartender, but he told me some good news: they're not letting go of the giant celestial depiction of baby angels that's famous above the bar. "We take the painting with us."
This post has been updated to reflect Cooper Union's statement confirming the businesses' departure from their current location, as well as to address the bar's official closure.