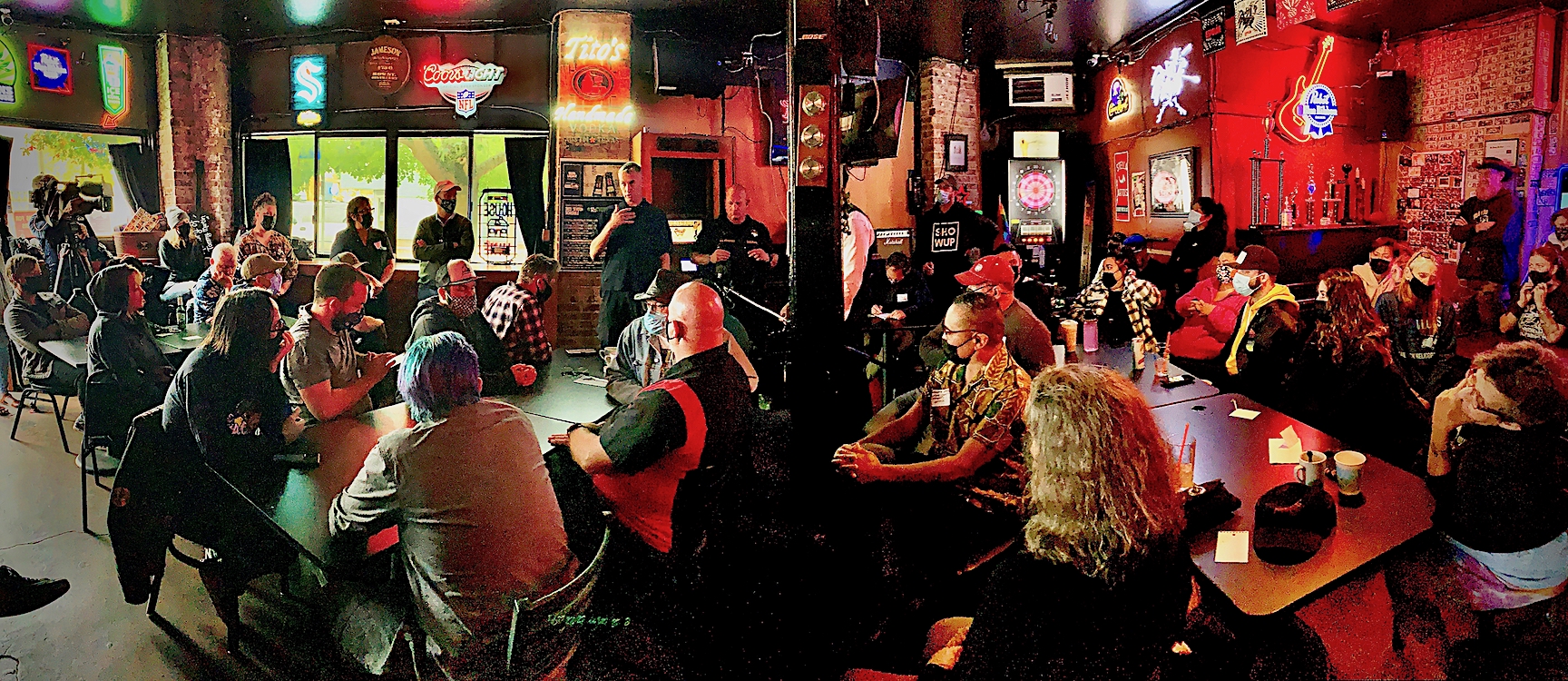 A packed house at Mac's Triangle Pub in White Center posed questions to John Taylor, Steven Crown and Bill Kennamer at a "town hall" style event on September 27. The trio said more money was coming, the recent fires apparently went offline, and crime prevention was more consistent with people calling 911 and asking for a greater police presence from the sheriff's office.
Photo by Patrick Robinson
The Mac's Triangle Pub was packed on Monday, September 27 with traders and local White Center residents with two things in mind. The wave of recent fires and seemingly uncontrollable crime in the region.
There to answer their questions were First Deputy Bill Kennamer of the King County Sheriff's Office and the Senior Fire Investigator for the King County Sheriff's Office, Steven Crown and later in the meeting John Taylor Director of King County Local Services, Associate David Daw, External Relations Manager for that service, and Henry Liu, Community Outreach Coordinator for the Seattle Police Department.
The community of White Center and the surrounding area has been the scene of at least six recent fires in the past 6 months, including September 26 just north of White Center at 16th SW and SW Barton. Security footage from the Ring Camera across the street showed a fire breaking out in the abandoned building followed by a figure coming out of the door and slowly walking away.
Those present at the meeting spoke about the "Lumberyard Bar" arson that destroyed seven businesses in the wee hours of July 5 and the second fire to hit the "Locker Room Bar" recently, which resulted in the burglary. from those non-operational "nightly" businesses to people looking for something of value.
Deputy Kennamer said White Center and the area south of the county / town line (Roxbury Street) had at least two officers over the past 23 years to patrol what he called K-7. This area stretches from SW 31st to part of South Park in the east. then south to SW 116. He explained that "Our elected officials have decided that we are no longer going to follow the broken window rule", which means that "if we take care of the little things, there will be less of the big things". But the laws and rules that the police must now follow have been changed, he said. "If somebody comes in right away and smashes that window with a brick, I can go out and grab it but I can't take this guy to jail. I can't fix this. Only our elected officials can fix this."
The meaning of this, he continued, is that "I need a letter from the owner of a building so that I can stop the homeless from entering an abandoned building and sleeping there." This was in response to what happened at the site of the old Atlas Heating building at 9811 17th SW. He had already burned once, then again on September 1.
Business owners in the crowds and others complained about often seeing patrol cars just parked or apparently not patrolling the community. Kennamer explained that MPs often write reports, but when urged on this question, he said "I'm just a beaten-up cop with flat feet", and in order to get a more serious answer, y including potentially more police presence, people should contact her the precinct commander Joe Hodgson and even the sheriff, Mitzi Johanknecht. The member said he would share those concerns with them as well.
A question has been raised regarding the potential for "citizen patrols" like the Guardian Angels organization in New York. Kennamer said he wasn't personally opposed to this but couldn't speak for his department. Others have suggested that crime prevention teams of people are not a good idea as they tend to turn into a sort of vigilante group.
The owners of Lucky Cannabis on 16th SW have mentioned that White Center is in the "top 6%" of all crime zones in the country. Several people at the meeting wondered why the focus was not on tackling crime in the community. Deputy Kennamer said, "It's over my salary."
The fire investigator, Steven Crown, answered the majority of the questions as the fires have recently been concentrated in the community. He explained that if the "Lumberyard Bar" fire was in fact arson (and since "LGBTQs are a protected class," it is likely a hate crime). The two fires at the Locker Room Bar were not arson, however, and this has been proven to be so, thanks to CCTV footage caused by discarded smoking materials. He explained in detail that the locker room had two wooden planters in front. The soil in these planters contained organic material that produced their own natural level of heat when they decomposed. But the people putting cigarette butts in these planters "sped up the process", causing them to catch fire, in both cases. In the case of the fires of the 17th SW. he explained that this was most likely caused by homeless people who basically started a "campfire" to stay warm and led to the building fire, two more times. He was unable to comment further on the Lumberyard Bar fire as it is an active and ongoing investigation. Asked about the fire at 16th SW and SW Barton, he said he didn't know. This led to questions about the amount of information exchanged between King County and Seattle regarding fire investigations. "Not much," he said, but that would likely change and he would contact them personally and examine any potential links to other fires.
But he wanted to allay people's fears, many of which were echoed in the meeting by saying, "There isn't a mad arsonist running around the White Center and setting fires."
The meeting was called a bit hastily so a few people struggled to make it on time and among them was John Taylor, King County Director of Local Services.
Later in the meeting, he was asked by trainer Lee Torres of Boxing Gym Westside about the idea of ​​hiring a private security company to patrol the area. "We actually explored this even before the fire," he said. amazing work in this community. But there is only one Bill Kennamer and he cannot be everywhere at once. So I appreciate people's frustrations. We share it and it's a real challenge for the sheriff's office with the funding they have and how they support the staff. We have thought about it. The challenge is to find a resource for it, pack it up and we can talk about it more. We were hoping we could use the COVID dollars. As everyone knows, the county received a ton of money from the federal government to fund our response to COVID. But when we've talked to lawyers about it, those dollars are not available. So we have to find other solutions. Let's talk about it more.
David Daw, Head of External Relations, spoke at the meeting and spoke about various funding programs and opportunities open to White Center businesses and community members.
The Community Service Zone (CSA) grants up to $ 5,000 to businesses or organizations to promote almost anything that supports local unincorporated communities. From October 1 for 2022. Here is the list of grants from 2021.
Conservation body program extends to approximately 25 people. They work Mondays and Wednesdays. They are responsible for cleaning up waste and graffiti in the central core business. They work at Skyway the other days of the week. A team of five is now working.
Community investment committee has $ 10 million and will design and implement a process to improve Skyway, West Hill and North Highline and they will solicit ideas from the community
If you have any further questions, please contact [email protected] or call 206-477-3800.