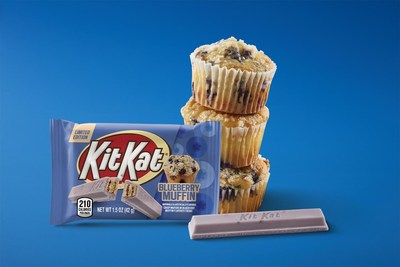 The KIT KAT® brand presents a new take on one of the most iconic baked goods with the new KIT ​​KAT® Blueberry Muffin, available while supplies last, starting this month!
This new, limited-edition KIT KAT® bar captures all the best qualities of the fan-favorite baked good with notes of fresh, baked blueberries, cake batter-like muffin flavor, and folded graham cracker pieces in the bar . This new bar features delicious blueberry muffin flavored creme wrapped around the signature crispy KIT KAT® wafers and perfectly mirrors the experience of biting into a fresh blueberry muffin, straight out of the oven! This flavor will be available at retailers nationwide in a 1.5 oz. standard bar, 3 oz. king bar and 0.49 oz. snack size.
"Our product designers have such a passion for deciding which KIT KAT® flavor should go next and making sure it resonates with our fans," said Dan Willard, responsible for the KIT KAT® brand. "KIT KAT® Blueberry Muffin has already become one of our favorites; it tastes like a freshly baked blueberry muffin, but no baking required!
The Blueberry Muffin flavor is the latest in the brand's ever-growing portfolio of permanent, seasonal, and limited-edition flavors, joining KIT KAT® Strawberry + Dark Chocolate Duos, KIT KAT® Hazelnut Thins, KIT KAT® Lemon Crisp, and more. Again. Be sure to try one out before it's too late!
You can learn more and even buy KIT KAT® Blueberry Muffins items. here.
---
Source The Hershey Company