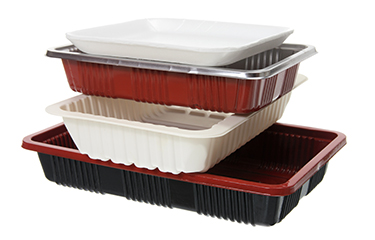 Pressure is slowly mounting in the United States against polystyrene foams and expanded polystyrene (EPS) – commonly known by the trademark Styrofoam – as communities and states begin to phase out its use due to sustainability concerns .
A synthetic "aromatic hydrocarbon polymer", polystyrene is the building block of what most people call polystyrene, and often takes the form of foam or EPS – a separate product made up of polystyrene beads injection molded into custom shapes.
Regardless of the specific brand or exact chemical composition, polystyrene foams are a well-known staple in the food packaging industry. The product's light weight, low cost, water resistance and insulation capabilities all lend themselves to the packaging of proteins such as seafood, which need to be kept cool and hygienic.
However, the negative environmental impact of polystyrene products has also caused many regions in the United States and around the world to begin considering — and implementing — bans on the material.
The U.S. states of Maryland, Maine, and Vermont have all passed and enacted bans on polystyrene, and New York recently joined them beginning January 1, 2022. A ban in New Jersey is scheduled to begin May 4, 2022, and a in Colorado, adopted by voters in the state, is slated for 2024. The US state of Florida, meanwhile, will consider making rules on banning polystyrene later in 2022, following a proposal from Florida Agriculture Commissioner Nikki Fried.
Some communities have banned the use of the material by ordinance in certain situations: the city of Freeport, Maine, for example, has banned the use of polystyrene in food packaging and take-out containers since 1990.
Behind almost all bans – long-standing and recent – ​​lies a similar fundamental motivation: concern about the long decomposition time of the material and its disposable nature. This, coupled with health concerns, has prompted states to push for alternatives, according to Fried.
"Polystyrene may be convenient, but these disposable consumer products pose a hidden danger to public health," Fried said. "The chemicals in polystyrene are not only linked to human and animal health issues, but because these petroleum-based products take at least 500 years to break down, their negative effects persist long after they are discarded. "
For Hunter Miller, Oceana Florida Gulf Coast Field Representative, at the heart of the problem is the rate at which the material breaks down into "microplastics," which then remain for hundreds of years, affecting wildlife and human health.
"Polystyrene in particular is problematic because it breaks down into microplastics at an alarming rate," Miller said.
Some retailers have also started moving away from the material as part of sustainability efforts. Wegmans, for example, phased out all Styrofoam egg containers in 2021 as part of its overall goal to reduce in-store plastic packaging by 10 million pounds by 2024.
The pressure, from both retailers and the government, is already having an effect, according to Christa Biggs, business development manager for the food protection division of Aptar Food + Beverage.
Aptar, based in Atlanta, Georgia, USA, is one of the largest plastics manufacturers in the world, and the company has been involved in efforts to reduce the use of plastics and increase the sustainability in the food container sector.
Much of the waste in the US food stream is at the retail level, Biggs said, and some companies are aiming to change that.
"They're the ones I've seen on my side pushing for more sustainable packaging," Biggs said. "In terms of retail, and what I've seen from seafood customers a bit further downstream, they're mostly focused on eliminating that Styrofoam from a sustainability standpoint."
Aptar is one of many companies working on solutions to this problem – like the company's SeaWell protective packaging system, which is designed to preserve the quality and freshness of seafood.
Packaging is a complicated science that requires careful engineering of materials to ensure products stay fresh and safe in a convenient container, without costing an exorbitant amount of money, Biggs said. Crude proteins like seafood are having difficulty transitioning to alternative materials to plastic, she said.
"Crude protein wrappers are usually the hardest to replace with something biodegradable," Biggs noted.
Protein is often moist, she said, and can cause biodegradable materials to break down at the same rate as the meat or seafood they contain.
"Raw meats, proteins, seafood… not only are they moist, but they contain their own nutrients, they have their own chemical reactions," Biggs said. "A lot is happening at the molecular level that currently available compostable items aren't tough enough to withstand, withstand, and provide the same barrier properties."
Many companies have switched to alternative forms of plastic products that don't use polystyrene foam, often opting instead for polypropylene-based materials that cost a bit more but don't have the same issues. . In addition, these polypropylene-based products are recyclable, a primary goal of modern packaging.
Biggs said that for companies that have changed, it's not as simple as changing materials – due to the properties of different materials, for the majority, there is no individual packaging solution.
"We've never made the exact same size trays as the polystyrene world. I have never seen a direct comparison board. It was never an easy change," Biggs said. "Dimensions were never translated as copy-paste."
Newer plastics, made by thermoforming, have different requirements than polystyrene foam, which means the same shapes and sizes don't necessarily translate between materials. The rounded edges of foam trays, for example, aren't easily replicated with other plastics, Biggs explained.
"If you think about those foam trays, a plastic tray has a pretty sharp, almost 90-degree corner," Biggs said. "If you buy a pound of ground beef now, the inside dimensions of the tray are more like a 90 degree angle."
These angle changes mean different volumes, which could impact the products inside. On top of that, literally, is the film that covers the product and the packaging. For many foam-based containers, the common method of packaging the product is "overwrapping", which involves completely enclosing the entire package in some form of clinging plastic film. The problem is that the same film often isn't usable with a new plastic tray, according to Biggs. The foam is often "stickier," she said, allowing the film to cling to it. On the other hand, new plastics sometimes allow this material to fall off, or worse, to interact at the molecular level with it in negative ways.
The current packaging uses a top-sealed lid instead, but that also requires special attention in terms of material, Biggs noted.
"A top-sealed lid gasket must be compatible with the tray material," she said, adding that the interaction between the two materials where they seal can vary. Also, the wrong materials mixed the wrong way could cause problems.
Even with well-matched materials, getting the product into the packaging can further complicate the process, Biggs said.
"Another thing is the equipment. People who were over-packing before, if they had to go from a tray to a top seal, that's a whole different piece of equipment," Biggs said. "It is extremely complicated. It's never just an easy change.
Changing an entire packaging line away from polystyrene foam is not necessarily as simple as switching from one material to another, and any seafood packaging operation still using foam may want to consider this. before a ban forced a change, Biggs said.
In the future, there may be a replacement for polystyrene foam that meets the same parameters — affordable, lightweight and excellent for insulation, Biggs said.
"That's where all the research efforts are," she said. "No other sustainable resource can match all these qualities."
Photo courtesy of photosync/Shutterstock